DATE and TIME:
March 27, 2015 9:00am to 5:00pm

LOCATION:
SparkFun Electronics
6333 Dry Creek Parkway
Niwot, CO 80503


Come join Atmel and SparkFun® Electronics on Friday March 27th for a pre-Arduino Day Celebration at the new SparkFun Headquarters. The Atmel Tech on Tour Mobile Trailer will be there with lots of new demos and giveaways.

Also featured on the trailer - a technical presentation on the new Arduino Zero board and all its cool features along with a sneak peek of the new Adruino RF101 Wi-Fi shield using Atmel's own WINC1500 SMART Connect module. These are two new power additions to the Arduino family that will quickly enable IoT applications with minimal coding time.



Win the Raffle!


Are you feeling lucky? Atmel and SparkFun will be raffling some fun prizes on the hour, every hour for those attending the presentations.




Stock Up on Some Fun!


Stop by the mobile trailer and get remarkable discounts on a number of Arduino board and compatible shields that will be on sale for up to 30% off. Grab this chance stock up on your favorites.



Join Atmel and SparkFun as we gear up for Arduino Day 2015!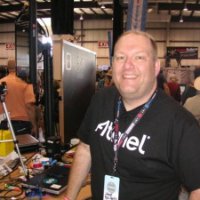 Bob Martin, Atmel Wizard of Make, brings over 25 years of experience in embedded systems and microcontroller environment to Atmel's microcontroller applications team. He graduated from the University of Saskatchewan in 1987 with a B.S.E.E in Electrical Engineering and has designed, debugged and commissioned embedded systems in the medical, atmospheric research, military, consumer electronics and industrial instrumentation areas. He applies this knowledge along with a variety of robotic platforms and to teach and encourage new Makers young and old as often as he can. He lives in Sunnyvale California with his wife, two daughters, a cat with no teeth and a garage full of hacked toys and miles of surplus wire and resistors he'll get around to using some day.

Meet Bob The Wiz!



Ask your Questions, listen to his talk and chat about your creation with Bob. He may just share a wicked trick or two.


Bob Martin,
Senior Applications Manager,
Central Applications Group.